GRAND CANYON MURAL UNVEILING!  JANUARY 18, 2008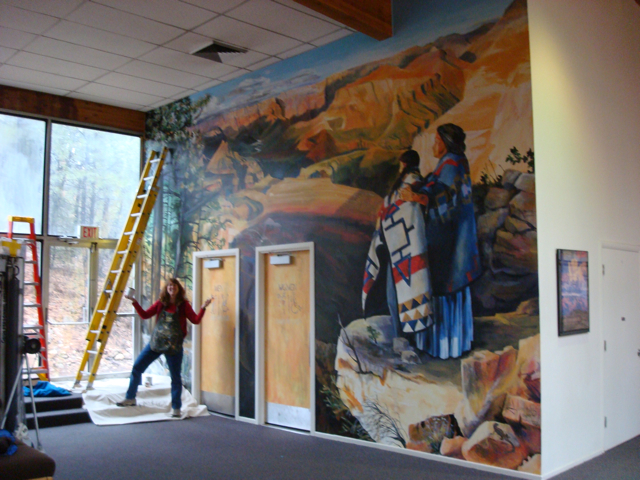 Im just now recovering from the weekend,  and it's nearly the next!   Last Saturday we finally had the unveiling of the Grand canyon mural at the Shrine of the Ages.   What a trip that experience was!   It's inspired me to LEARN so much more!   It seems the more I learn, the more I know I dont know, so I try to learn that stuff, but then find out MORE I didnt know!   It is a blast to find out new stuff tho…good thing!
The main things I learned artistically doing this mural is first that every rock is like a mini-grand canyon…formations within formations.  And one can really get involved in the details here so much that it is a series of paintings within a painting.   Need to limit myself and imply things, which I mostly did.
Another thing I stumbled across was the way that if the light area of a shape is warm, then the shadow will be cool, or vice versa.  It goes a long way to making something look real.   It's true in all shapes from a mountain to a face.  Ive always sort of hit and miss with this concept because I didnt know it.   Ive seen other people's art and wondered what made it work and why I liked it so much.   Nobody ever taught me this in school!  Students I have in the future will know this concept though.
I learned tons more doing this mural…too many things to list.  I made some WONDERFUL friends and had the EXPERIENCE OF A LIFETIME!  This mural will last my lifetime and likely that of my grandkids.  Kinda gives one a pinch of immortality.  Sweet.