RED CROSS – HURRICANE KATRINA
September 27, 2009
/
/
Comments Off

on RED CROSS – HURRICANE KATRINA
In my "other life", I was a nurse working first at St.Joes in Phoenix as a newborn nursery nurse, then in Mesa at Desert Samaritan as a med/surg nurse.  I retired, but before I did, did a stint as a Red Cross nurse.  This was most memorable… and in many ways, life-changing in that I've developed a strong sense of an "attitude of gratitude".  
Hurricane Katrina hit, and I felt a strong desire, as did many people, to do something besides sitting around watching TV accounts of this mayhem.   I am a Medical Reserve Corps nurse in Prescott, so through them I joined the Red Cross.  Within 3 days, I was sent to first, an old Walmart shelter in Pineville Louisiana where I spent 2 weeks caring for the Katrina refugees, and then while we were there, Hurricane Rita hit us, so we got a bunch of Lake Charles' homeless on top of our New Orleans people.   Later I was transfered (because at that time, I was considered a "veteran") to a huge coliseum shelter in Alexandria La, just across the river.  I was assigned to pull together and be the clinical manager for the clinic/first aid station for 1600 refugees.  This was VERY different from the relatively nice family shelter at Walmart….I could go on and on.   If you would like to read more, go to this website.   Of course, do come back here when you're done!
One of the coolest days was the day of this
double wedding (I was the photographer, how handy!) 
See the story and others in the above link.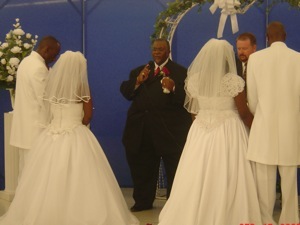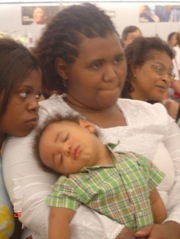 This is a family at the wedding who were just reunited that same day.  Such a happy, exhausting day!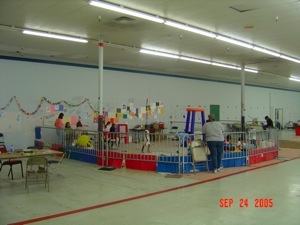 These next two images are of the Walmart shelter I was working in when I first got to Lousiana.  I was in charge of the children's area, so organized refugees and townsfolks (who were great!) to make this little day care area.  The parents were so exhausted and this gave them a much needed break to have their children safely tended to.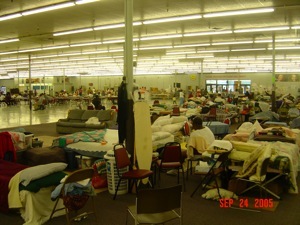 The next image is of the general sleeping area.  This was mostly a family shelter so it was relatively gentle.  Still…nothing like sleeping with 400 of your closest friends to raise the tension.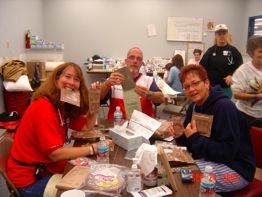 These yummy things are MRE's.  Meals Ready to Eat.  Army fare.  They have about 2000 calories in them, and  don't taste too bad.  They were designed formarching troops to "stoke them up" so that they wouldn't have to stop the march for the "call of nature" so much.  Yech.
Daughter Melanie is a Montessori Teacher.  Her class sent a shipment of toys, poems, stories and words of encouragement from the Keystone Montessori kids.  Thanks kiddos!  The other Red Cross staff was as excited as I was when we recieved these boxes, but NOTHING compared to the looks on the faces of the children when they got to pick out their toys!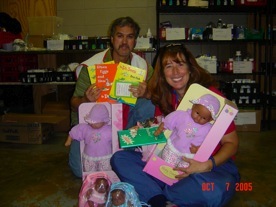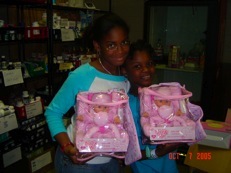 Though the work was tough, and the circumstances heartbreaking, there were still good times to be had….good people especially.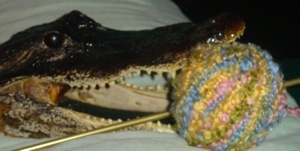 This is "Al", our mascot
These are some of my roomies.  We stayed in this motel room to sleep when we could.  These were some of the women on my staff in the colluseum shelter.  We all learned to knit and completed these fabulous scarves while there!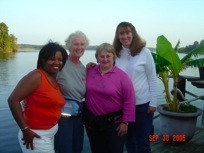 These are some of the great women I worked with!  Here we are having some food and R&R (good swamp rock music!) at Tunks, a cool Lousiana on the swamp eatery!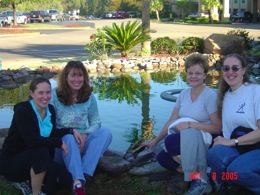 And this is us on our road trip to New Orleans.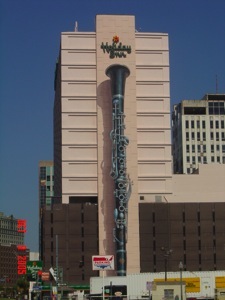 And of course there is still fabulous art to be seen in New Orleans…except just higher up!