This is the finished (but not in the water yet) Dolly Steamboat with my murals at Canyon Lake in…well it's out beyond Apache Junction, Arizona.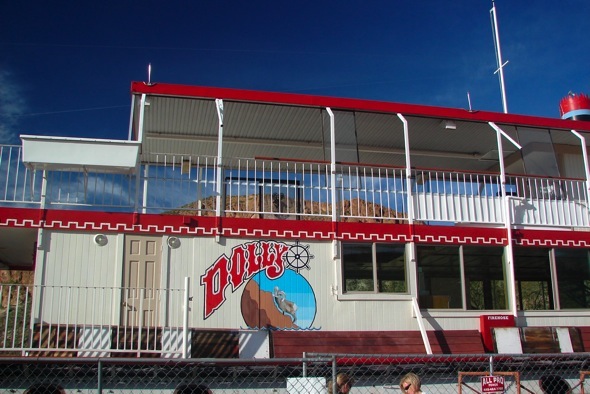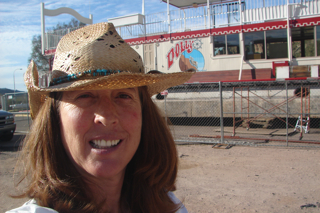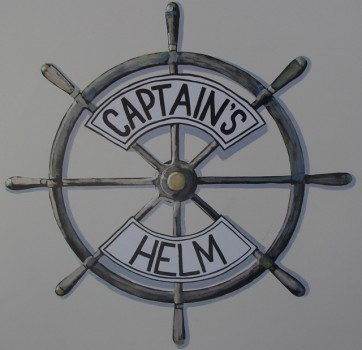 This was done in One Shot Lettering Enamel, a paint I usually only use for lettering.  The paint needed to be super stout.  Good enough to maintain it's color and adhesive qualities for years, in all kinds of weather.  Moisture (some, this is the mojave desert afterall),  heat  (a lot of it!) and the UV rays.  I've never used it with shadowing and texture before.  It was more difficult, for sure to work with for this, plus as you can see by my sunburn and squinty eyes and hat, it was HOT.  The paint, even though it was oils, dried fast so I had to work fast.  No glazing like with normal oils.  It seemed to work tho, so that's good!
The lake had been dry much of the season for some governmental checking of the damn, so this was a good time to refurbish the Dolly.  Of course, funds were tight for the owners because of no income all season, so I charged my normal fee, but took half out in barter.  I got several dinner cruises, plus get to go on the Dolly anytime I like gratis, including with my kayak stowed, where they will take me to the other side of the lake which is VERY long, through a canyon, and I could paddle DOWNSTREAM!  (yes, Im a woooooos).  That was a pretty good deal.  Except for one thing.   I LOST THE ENVELOPES WITH THE COUPONS FOR THE DINNER CRUISES!   That really sucked some serious duckeggs.  (Hey Dolly crew, maybe if you see this you could slide me some replacements?   hmmmm…we'll see)
REGARDLESS, THIS WAS A COMPLETELY FUN MURAL TO DO!!!    This was actually my second paddleboat.  The first one is at Lake Havasu, one that was built by a long lost neighbor of mine from when I was a kid, Todd Miller.  Pretty cool.
UPDATE 10-13
Here's the Dolly in the water at dock!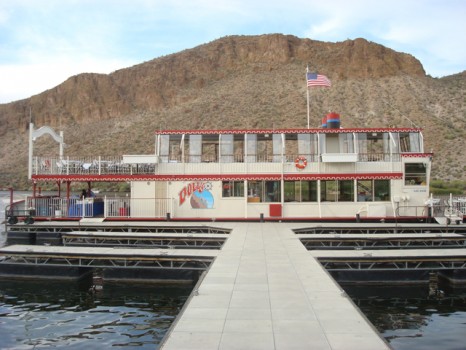 If you want to take the dinner cruise (the food is actually quite awesome…I thought it would be a la airplane food precooked, but it's NOT!   MMMMM.  Or if you just want to take the scenic jaunt around the lake go to THIS ADDRESS  to check it out.  Be sure to come back here tho!