August 28, 2011
/
/
Comments Off

on ENTRENCHMENT
ENTRENCHMENT
My sweet husband and I have lived in this cute little 3 bedroom bungalow style house in downtown Prescott for 2 1/2 years now. However, it is a rental. We were hemming and hawing about not signing another lease and buying something, but didn't do that because of all of the EFFORT it would take to move ALL OUR JUNK out of this house into another, including stuff in the large yard and storage areas. Sweet though he is, my husband is a pack rat. He likes his "junk". We were really entrenched deep at this house.
However, our decision to stay was shortlived when the owner of the house, a retired schoolteacher named Betty, took a turn and her daughter decided she needed to move Betty back into the family homestead so she could care for her. That's a really sweet and nobel reason, but the results was a 30-day get outta my house notice to us. YIKES I says!
We prayed for help in finding a good place, and fast.
As it turns out, getting booted out of our home was a blessing (in disguise of course). My dear mom was needing more help herself. Not enough that we needed to live with her,  but we are now closer and in her ward. We found the best place! It is in a mobile home park in the beautiful pine trees with really large, unfenced lots. They have a clubhouse with a JACUZZI (oh my aching bones that sounds good!) and we have sweet neighbors who invite me over for lemonade and everyone waves, and a maintaince (can't spell that and neither can my dictionary!) crew who come around saying what can we do to help? Plant you a tree? Help you move furniture? Dig a hole? "We're at your service!".  I must say, there's a lot of rules at this place, but for the most part they are to keep the land in as natural of a state as possible and make sure ya don't have some guy with a junkyard or a rooster living next to you. So I guess that's okay. The BEST thing about our new home is that IT'S PAID FOR! That's right, no more mortgage!  And we got such a good deal on it, that we used $ saved to pay full price for one, to pay off all our debts.  THAT FEELS SOOOO GOOD!  Here's a picture: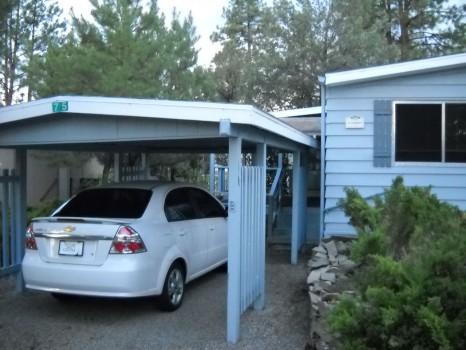 It's not fancy or anything, but it's really nice, with all new stuff and in good repair. It's feels so good and cozy with most of our stuff in it now. It feels like home.
We are re-entrenched. I like that.