WASHINGTON SCHOOL RIPARIAN MURAL
October 2, 2011
/
/
Comments Off

on WASHINGTON SCHOOL RIPARIAN MURAL
WASHINGTON SCHOOL RIPARIAN MURAL
This MURAL was a trip to do. Last year it was supposed to be done but was abruptly canceled. The Highland Center was in the process of obtaining grants to have a large riparian themed mural painted on the side of the school by the area where the Highland Center conducted classes in science and other things. The Highland Center is an organization here in Prescott dedicated to, amongst other things, educating children on our environment. Anyway, at the same time across town, a mural was being painted on another school that was funded by (I believe) the Dept. of Transportation to do a mural on "green transportation for kids". The muralists took it upon themselves to paint instead something completely different and with horrendous colors. It was a mural on diversity. Now that's a lovely subject to do a mural on, but it was not what they were commissioned to do.  Also, it had bright primary colors and very bright, loud pinks and other pastels, with cityscapes and cement and giant flowers that do not grow or belong in Prescott, on a beautiful historic building that is red brick, amongst some beautiful trees. There was HUGE, even national controversy surrounding that mural. Anyone who dared say anything negative about that mural was called a bigot. People's lives and livelihoods were literally destroyed by daring speak against that mural. It was an awful time for Prescott.
I was in the process of painting a mural on a bike shop, the planning stages. We had to scramble (not too much) to make sure it was 100% Prescott. Only a couple of things were changed because I always consider the environment first before I paint a mural anyway.
This year, the Highland Center and the school board cautiously gave us the go-ahead, but with stipulations. First and foremost, it was to be portable so they could get rid of it if needed. Mary Schulte, the other artist working on this mural and I gave them our assurances they would like it and it would be exactly what they wanted.
We painted the mural on 2 4×8 sheets of reinforced signboard and made it so it hung on the chain link fence in front of where the kids received their instruction.
Mary and I went for a beautiful hike along the creek at the Dells and took lots of pics. I was out on a log getting a shot when we suddenly spotted the coolest bird nest we'd ever seen! It was made out of grass and junk that had gotten hooked on a log across the stream in a flood. I painted the mural around this: [singlepic id=369 w=320 h=240 float=right]
We painted the painted part of the mural realistic. But then, we had the children do drawings of critters that call the creek their home, Mary took these drawings and made little clay images of these cute little critters. When my part of the mural was done, we came back and glued these little ceramic critters in areas we had planned for on the boards. My fave was the snake on the limb. I painted the tree to have a limb hanging at the same angle as the ceramic one so it looked like it was hanging down about to catch a little mosquito one of the children had created.  Mary's favorite is "Beaverina" a little girl beaver a child did. You can tell it's a girl because the little beaver has a bow in her hair. We had so much fun with these!  Here's some images: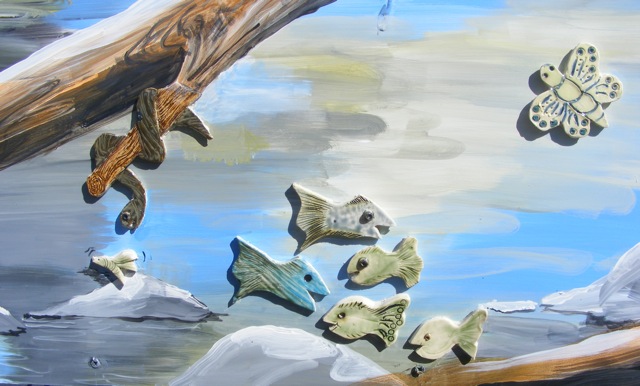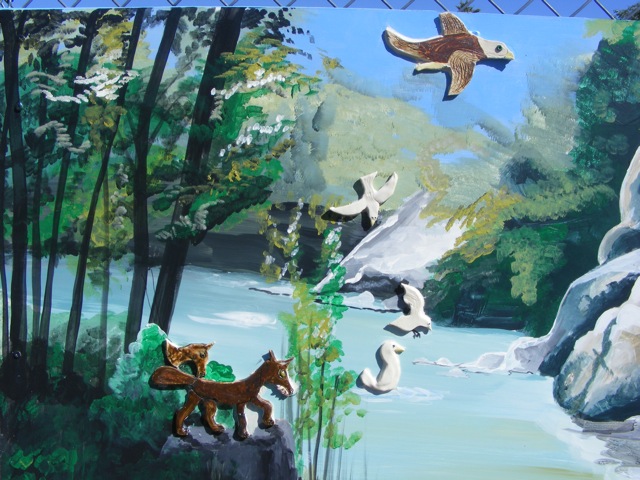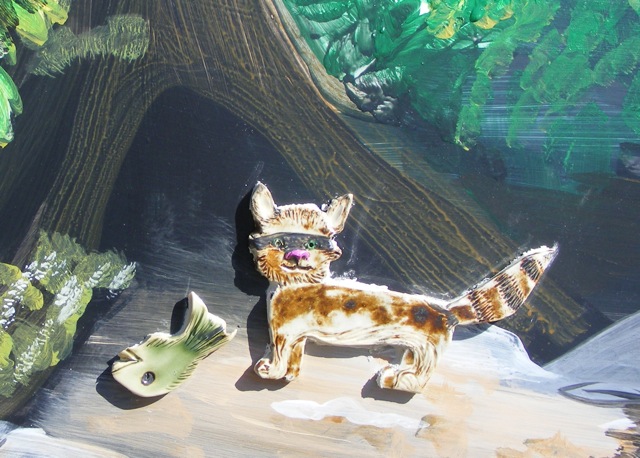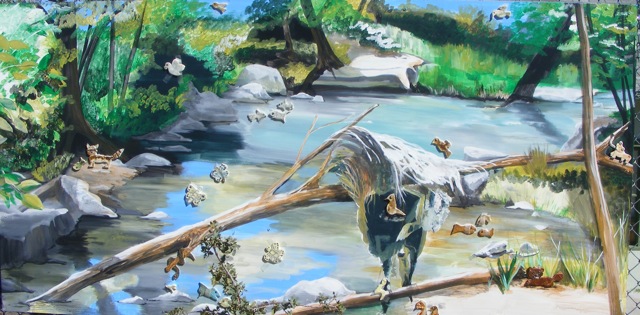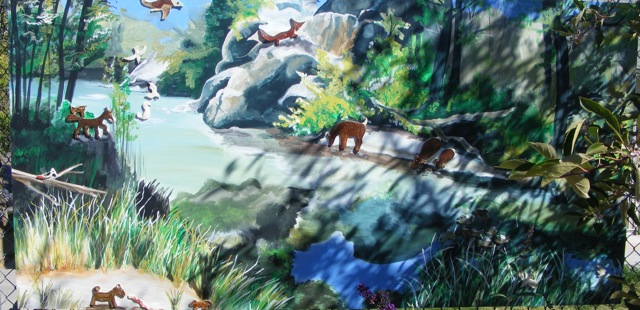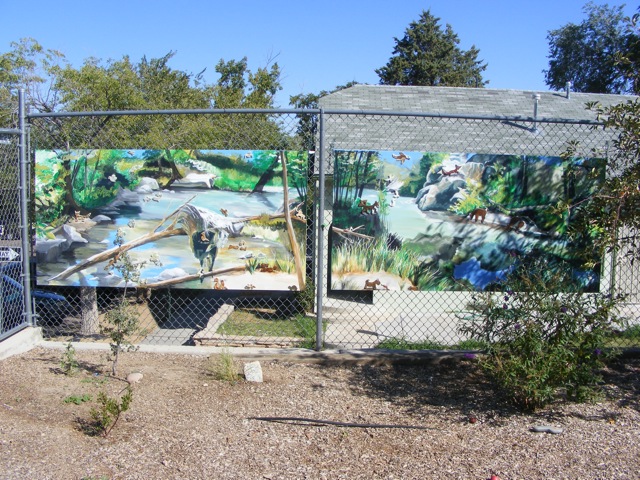 Tomorrow, I start on my latest mural, one the city commissioned of me for the city's celebration of the state centennial in February. I have to paint when it's not freezing weather for the paint to stick correctly, so I'm starting it now. Nobody is to call it a "mural" though. It is a "pictorial timeline".
It will be an awesome mural, nonetheless.
Hopefully, with these 2 very seen murals, some if not all of the fear of murals will be turned back to love of large art again for my beautiful Prescott.