September 15, 2009
/
/
Comments Off

on "IT'S ALL I NEED'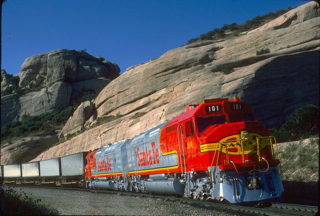 KEN MADE ME POST THIS TRAIN IN THIS BLOG, CAUSE IT'S ALL HE NEEDS
So what is it in this life we need, materialistically speaking?  Of course we all need love and family and the such…Im not talking about that….Im talking about the STUFF.
I decided to make a list of what I need…here it is:
I NEED
RAINMENT cause I don't think ya'll really wanna see me naked (ew, old hide) and I don't like being chilly.
MANNA cause I bonk when I get too hungry and slur my words
A NEST it's a girl thing…especially an old girl thing.  Not big though cause I don't want to spend my precious time doing nothing but cleaning.
PAINT AND SOMETHING TO PAINT ON.  Brushes are optional cause I can always fingerpaint.
A CRITTER to love and hug on and who is excited to see me when I come home and gives me sloppy kisses and likes to go camping and swimming and kayaking with me.  (could be a husband, but a dog will do)
SHAMPOO AND CONDITIONER cause otherwise Id quickly  have Bob Marley hair (see fine arts section if you don't know what that looks like)
MY COMPUTER AND PHONE to keep in touch with the world and access to knowledge and my music and hawk my art with so I can have all the other above mentioned stuff.
MY BIKE and bike pump.  Gotta get to where I'm going.
                          and THAT'S ALL I NEED
             now what I WANT…that's a whole nother blog